"You can't borrow someone else's relationship or knowledge of God"-  Rob Wegner 4/25/10
Let's face it, faith can be a tough thing for many people.  Where is God?  Why do bad things happen?  Did we simply evolve, ended up here, and somehow are a fluke of science?
I've got opinions about a lot of things, if you ask me about the health care debate, I'll have an opinion.  Based on what?  Some opinions of CNN/Fox News, a little talk radio, and a few sound bites from others or stories.  The truth is, I haven't read the 1000 pages of actual information that would give me the details.
In our lives, far too often we can approach God the same way.  We have a "filter" we view God through based on the opinions of others, how we grew up, or what we think He should be or should be doing.  Too often, what we think about anything is based on second- hand information or in this case, we have second-hand faith.
We are a culture of short cuts.  Net it out for me, tell me what I need to know, and I'll move on...  We want God to swoop in and fix our problems but don't really have a personal pursuit of God.  Are we pursuing God and our Faith or are we relying on the information or faith of others?
Matthew 7:7  "Ask and it will be given to you; seek and you will find; knock and the door will be opened to you.
In the Bible, Jesus says, "seek and you will find, knock and the door will be opened to you..."  How do we move from second-hand knowledge of God to first-hand knowledge?  Do you have such a strong notion of what God should be doing that we can't see what God is actually doing in our lives?  Could our eyes be restrained?
If I want to lose weight and look like a chiseled, strong machine, it won't happen by simply standing and hearing stories from a personal trainer... I actually have to get on the treadmill, change my eating plan, and push some weight.  This will give me a first-hand experience of what it takes to get into shape.
Faith is similar, what are the activities that can help us get a first-hand experience of God? 
Read the Bible regularly, check out youversion.com and start with Proverbs and John... read a chapter or two a day as part of your routine...
Start praying.  Keep it simple but a great start is to pray, "God, I'm pursuing you and give my life to you.  Please send people in my life and help guide me in understanding You and my purpose here in life..  Give me the eyes to see what You see and what my next step is..." 
Connect with others.  Be a friend and have a friend.  Who we surround ourselves with has a big impact on who we will become.  Are the people around you helping you in your steps and pursuit of God or are they pointing you a different direction?  Learning from others will help us in steps we can take in our personal journey.
Practice generosity.  Start taking steps of giving your time and money.  Start looking for ways you can volunteer in areas you have a passion or have experience...  Give to help others, if not here at Granger, find a place that is helping you takes steps in your faith and give there.  Make a difference in the lives of others and in your community.
Connect to a church.  We all need reminders and continue to learn- find a local church or hang with a church online to help understand Who God is and how He works.  Going to church to check a box isn't the issue, it's about building your knowledge of Jesus and what His purpose is for your life.
The second-hand, normal response might be, "uh, that sounds like a lot of work... I think I'll pass..." 
Where are you taking steps?  Toward Christ and pursuing your Faith or is life keeping you busy enough not to really think or focus on it?   What helps you experience God first-hand?
Check out a great message related to this post at gccwired.com by Rob Wegner, "4 Words" on 4/24 and 4/25.
Kelly & Erin, online church volunteers, headed to India with a missions team back in March. They had the opportunity to spread the love of God to the people of Kalavai and to watch God move through not only the people in the village, but also through the missions team. What an amazing experience!  Watch below to find out more about the trip and what went on!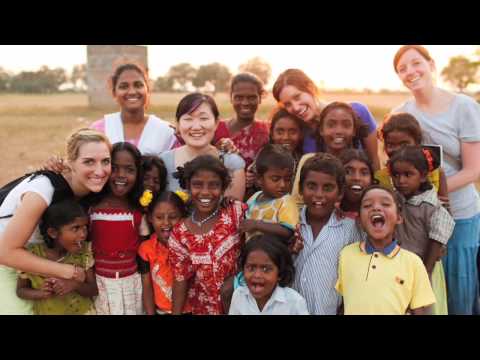 Online church is not a substitute for real relationships... it enhances, streamlines, improves, adds fuel to the physical relationships you already have, and gives you the opportunity to meet others across the globe in authentic online community.  It's both.
Whether talking about Online Church or a Megachurch, give me 5 friends I can do life with and share a mission with and we can take on the world.... literally.  My "church" starts with the 5 people closest to me (not in a pew) but in my 24/7 life.  Here's what I believe:
Intentionality matters in what we believe and in our relationships.  When my wife and I meet with our closest friends, they are "the church" to me.... They challenge me, hold me accountable, want what's best for me, and push me in my faith.
Online church can be the glue that keeps these 5 friends focused, on mission, encouraged, able to collaborate with others, share teaching, and more.
A physical church can be the glue that keeps these 5 friends focused, on mission, encouraged, able to collaborate with others, share teaching, and more.
Yep, I just repeated myself.
A big physical church becomes small with these 5 friends.
I love the connection to a larger 'church' but experience the richest parts of life and faith in my 'small church' of close friends.
The church needs a revolution.   Scores of people believe in God but don't see the need for church.  We can and must do better.  Love God but don't care for "the church"?  Start by 'being' what you think the 'church' should be and invite some friends along the way...
Wherever you are in the globe, you can start changing your community with a few friends.  Our vision is to help resource you, bring teaching, services, strategies for local missions, and anything that can help you take your next step toward Christ.... online.  Let's connect, learn from each other, and share as we make it happen!
Have you heard about online church but wonder what it's all about?  Here are a few bullets of what we consider to be "Online Church":
Rather than attending a physical church building to "do" church, we offer an online experience (currently with 3 service times on Sunday's 12, 6:30, and 8:30 PM EST) where you can attend with others from all over the world, chat with them, take notes, give, send prayer requests and more.  It also allows you connect with others attending through Twitter or Facebook or simply remain annonymous.  For many, they think Online Church ends there... in reality, it is so much more...
Any opportunity we have to "be" the Church, grow in our faith, learn, connect with others, and continue to take steps online IS Online Church
Reading the Bible using youversion.com (or other online Bible offerings) is Online Church
Connecting with others in Facebook and Twitter looking for opportunities to encourage, pray for, find ways to help, and more is Online Church
Creating a personalized spiritual growth plan through a tool like Monvee.com is Online Church
Having an online meeting or small group through a tool like tokbox.com is Online Church
Nearly every morning while we're getting ready in our bathroom my wife is playing various podcasts she downloaded from the web with some of the greatest teachers in the world....is Online Church
Having a discussion in an online forum is Online Church
Collaborating with a mission and giving to a Haiti Earthquake relief effort with others online is Online Church
Training future leaders in the Church via Online Web players/viewers is Online Church
Connecting people from all over the globe to central online sites of training and teaching so they can in turn be a force in their local communities is Online Church
Creating a central point of a local missional strategy online where multiple "physical" churches can unite and bring real change to their community is Online Church
To connect and learn with other countries, races, and cultures across the globe online to breakdown the divides that so often creates mistrust is.... Online Church
It's yes, and yes, and yes.  Online Church is more than a quick substitute to check some box that says "I went to church this week".  Online Church is about "being" the Church 24/7,  leveraging the technology available to us today to maximize personal growth, global collaboration and communication, and meeting people where they already are (1.5 billion and growing online).
Can you do Church Online?  What do you think?
 Imagine if the disciples had Twitter... what if we had TwitPics like the one pictured here with a caption:  FishNet_Peter:   Da boyz pulling in serious catch w/Jesus http:// twitpic.com/1dr4dg
Or others:
FishNet_Peter: @TaxAdviceMatthew  Dude, yeah you can throw a party but I walked on water... just sayin'.
Judas_Benadict:  What's the going price for silver these days?
TaxAdviceMatthew:   FYI, your brother from another mother does not qualify as an exemption.
Philipandcup:  @Bartho12 @Jamezebedee   Still wondering how we're going to feed everyone?  LOL.
Jamezebedee:  Demon possessed pigs running over cliff:   http://twitpic.com/6eg3lm
FishNet_Peter:  @MaryMag  The rock was rolled away?  Hold tight, be there in a few...
NoWayThomas:  OMW  Jesus is alive & back in da' house!  http://twitpic.com/3dz2bk
How cool would it be to see actual pics of the events in the Bible?  Wouldn't faith be so much easier?  Would it still be faith then?  As when Jesus rode into Jerusalem and the crowds had huge expectations that He was going to take over as King, clear the injustice, and bring a new world order... many still have expectations that some "God" should get rid of the bad people, stop abuse, and make things all better here on Earth.
To some, God is so obvious in the creation He has made.  Others struggle with why God seems so elusive and disengaged from our world and the disasters it brings.  Even others have no faith in a God or religion and have shifted their faith to science.  Many aren't even giving it much/any thought.  I think Jesus came in a time when there was no technology for a reason.
While I often wish I could simply have an angel appear to me every night and tell me what I should do tomorrow, it's clear to me that God operates with a different plan.  If He wanted to be obvious and drop down scores of lightning bolts, He could... but He doesn't.  Regularly in the Bible, Jesus calls us to faith and belief in Him.  There's something special about faith...
In my opinion, the question of God is the paramount question for us to pursue in this life... all other issues and quests become a distant second.  What say you?  What builds faith in your life about anything?